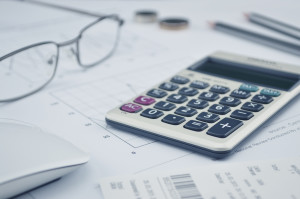 Determining the life insurance amount needed is almost always an estimate. You should try to use reason to estimate how much life insurance you should purchase rather than emotion.
If you are reacting to the amount of insurance as 'that's way too much', then you are using emotion. Instead, look at the need that the insurance is covering. This can help prevent being underinsured or leaving your dependents in financial difficulty.
The following calculator is based upon the following premises:
You are a breadwinner attempting to maintain your dependents' standard of living upon your death.
You are maintaining your current standard of living through your paycheck. 
Providing a replacement paycheck upon your death will allow your dependents to maintain their current standard of living (paying the mortgage, buying groceries, saving for college, etc.). 
The calculator will determine how much lump sum life insurance is needed to provide this replacement paycheck.

Unbiased, instant, & efficient quotes
H.F. Hanes utilizes the latest life insurance quoting technology to provide the lowest,  real time pricing from top insurance carriers.

How much life insurance do you need?
Take the time to research life insurance policies and coverage amounts to ensure peace of mind!

Get the best valued life insurance
Planning for those who depend on you is what really matters. We put the power of independence to work for you
It's time to Focus on your future.
Request Your Free Consultation: